Go Bottle-less with our water coolers!
Enjoy pure and fresh drinking water in your home or office at all times, with our sleek bottles-less water coolers!
Our water coolers eliminate expensive water delivery and the needed storing of large five-gallon water bottles in your office. By using your existing water supply line, our modern and compact coolers have a built-in multi-stage filtration/purification technology that will effectively remove chlorine, taste/ odors and any other contaminants that may be present in your tap water providing you with water that taste fresh and crisp.
So why wait for water delivery service? Start enjoying the benefits, convenience, and overall savings with our Bottle-less Water Coolers.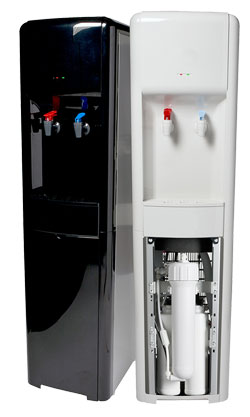 Water Filtration Is Perfect For:

FOR YOUR HOME
We provide proven solutions for water treatment that will improve the feel and taste of the water throughout your home. Bad-tasting water, odor, dry skin, unmanageable hair, water stains and water spots don't have to be something you live with day-in and day-out. Our equipment will dramatically change the quality of your water. The results are nothing short of amazing!

FOR YOUR BUSINESS
The water treatment needs for businesses can vary from one business to another. Perhaps you want a water cooler (bottle-less) system to reduce your expensive monthly bottled water delivery expense. Or maybe you need an industrial sized water softener to reduce the amount of hard water and scaling in your building. We specialize in customized equipment for solving all of your office or building's water issues.

FOR YOUR RESTAURANT
Water treatment is the single most overlooked component of running a restaurant. The food, ambiance and decor may be perfect, but if the drinking water tastes bad your customers will notice. Hard water shortens the lifespan of expensive equipment such as dishwashers, ice machines, water heaters, as well as silverware, dishware, and glassware. We work with restaurants throughout Hawaii to ensure the quality of their water.

FOR YOUR BEVERAGE BUSINESS
If unfiltered tap water is used to make soda, juice, as well as coffee, an undesirable chlorine taste will be noticed. To ensure that your customers are getting the full flavor in every glass they purchase, consider a filtration system to filter out any chlorine taste, odors and sediment particles that may be present in the tap water. Keep your customers happy with quality water and they will surely be thirsty for more!
Email:
info@watergroup7.com